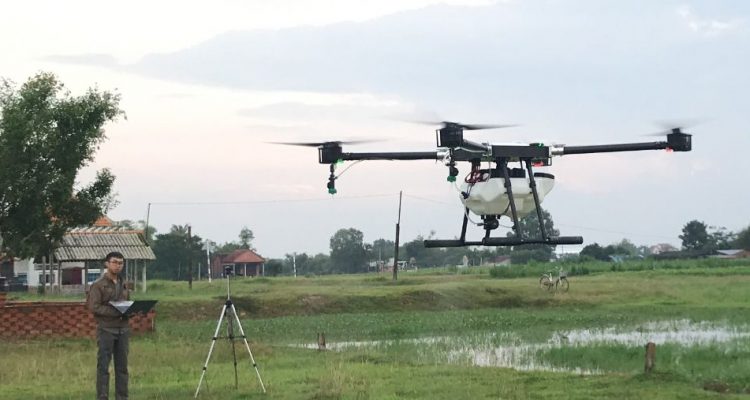 Vietnam officially produces drones for Agriculture
"By the end of this year, we will bring to the market about 300 drones (Drones) used for spraying pesticides and by 2021 we plan to ship about 3,000 units to serve Vietnam's agriculture. ."

Mr Luận Nguyễn – CEO & Co-Founder JWCLAB
At the online signing ceremony to establish JWCLab Manufacturing Joint Stock Company – Xelex Vietnam to manufacture Drones, between JWCLab Company and Xelex Technology JSC recently held, Mr. Nguyen Ai Huu – President and General Director Xelex Technology Joint Stock Company – said that this is the first time leading Vietnamese experts in the world have researched technology, designed and manufactured Drones and DaaS ™ solutions in Vietnam.
JWCLab's DaaS ™ service (specializing in spraying pesticides, fertilizers, pesticides) of JWCLab will help farmers avoid drug exposure, replacing labor for about 28 farmers who spray by hand. contributing to helping Vietnam's agricultural sector develop in a sustainable direction.
Representative of Xelex Technology Joint Stock Company participated in the signing ceremony of joint venture drone production in Vietnam
According to the agreement, JWCLab – Xelex Vietnam Manufacturing Joint Stock Company from now to the end of 2020 will produce about 300 drones at Xelex's factory in Ho Chi Minh City. Ho Chi Minh City and 2021 are expected to have about 3,000 Drones shipped.
At the signing of the joint venture at the US bridgehead, Professor Dr. Nguyen Duy Luan – President and CEO of JWCLab Vietnam Company – explained that our DaaS ™ service is our aspiration to serve the agriculture. Vietnam's industry develops sustainably. We do not sell Drone directly, only provide DaaS ™ service, to bring practical value to farmers.
The Drones practice in the field
In terms of technology, Professor Luan said, our hardware uses the most advanced technologies to improve performance in electronic chips, software applications such as Blockchain, intelligence. artificial (AI), machine learning, augmented reality (Augmented Reality), Internet of Things (IoT) …
Our Drones products and DaaS ™ services are patented in Vietnam and the United States. We have also patented and designed a Personal Aerial Vehicle (PAV) project to meet the world's advanced trends in transportation, aviation and space.
"In addition to serving Vietnamese agriculture, we will proceed to deploy other services such as delivery services, surveillance services, rescue services … In the future, products Our products will be produced for export in order to meet the needs of the development trend of countries around the world ", Professor Luan shared more.
Trần Thế
Video
Giới thiệu về công ty JWCLAB
953 total views, 4 views today