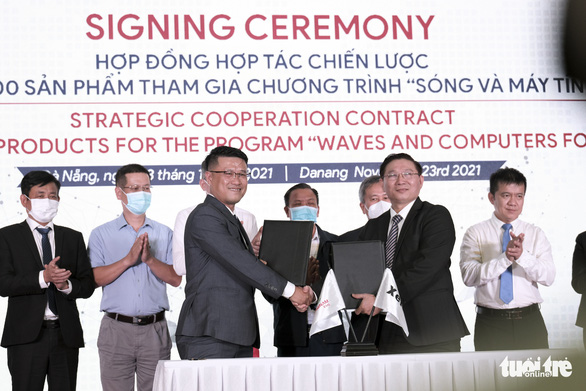 Xelex cooperates to participate in the program Waves and computers for children
TTO – On November 24, Xelex Technology Corporation signed a strategic cooperation agreement for the program "Waves and computers for children"
According to Mr. Nguyen Ai Huu – General Director of Xelex Technology Corporation – This is an extremely practical program to create favorable conditions for students, especially students living in areas with Covid-19 epidemic.
Due to the impact of the Covid-19 epidemic, many provinces have forced students to leave school and study online. However, not all families can afford to buy their children a tablet for learning. With 7.35 million students studying online today, the need for a learning support becomes extremely urgent.
Aim to support students with difficult family circumstances, especially those in Covid-19 epidemic areas who cannot go to school. Xelex Technology Corporation decided to participate in the program "Waves and computers for children" to contribute a part of its efforts according to the call of Prime Minister Pham Minh Chinh: there is a wave, there is Internet to all whole households; computers for children from poor households; is reasonably priced for these computers.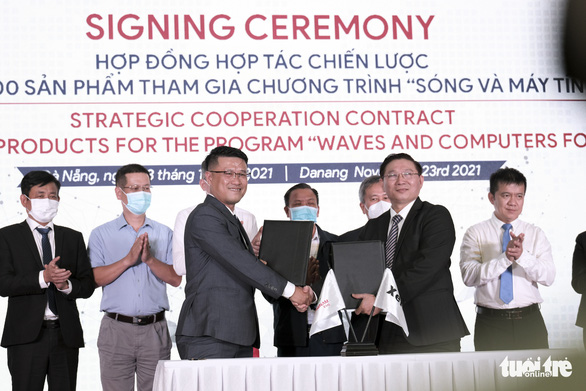 To start production activities, Xelex signed a cooperation agreement with Trung Nam Corporation to participate in the production of 100,000 tablets for online learning for students in the program "Waves and computers for children"
In the future, when two factories are put into operation with 20 lines of surface pasting of electronic devices, they will create jobs for 1,000-2,000 employees. Currently, in order to fulfill orders for Xelex, Trung Nam company is recruiting personnel to train and soon get acquainted with high-tech equipment to participate in production activities.
Photo: Tuoi Tre
Content: Xelex
422 total views, 3 views today